M a r k e t N e w s
Off-grid Applications for Solar-powered Cooling
Posted on : Tuesday, 11th April 2023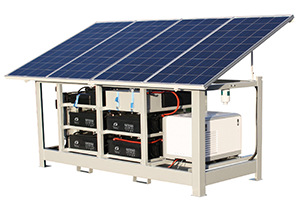 For small-scale farmers in Africa, Phaesun and Solar Cooling Engineering developed a PV-powered chill room. The system consists of a 2.8 kW solar array with vapour compression heat pumps, and it has been installed at a farm in Kenya.

The SelfChill cold room, a solar-powered chilling solution for off-grid applications, was developed by Phaesun and German firm Solar chilling Engineering.

The system is built on top-notch, energy-efficient core components but can be applied in a modular method, according to a statement from German solar company Phaesun. From modest freezers to substantial milk chilling tanks and cooling containers, different systems can be created and manufactured using the same basic components and other building materials (locally accessible) such as piping, insulation, and pumps.

In six African nations, the companies have installed 25 cooling systems. In a basil and mint farm in the Kenyan settlement of Thika, a SelfChill system with a 20 m3 volume was built in 2021. Until the produce is picked up for sale, farmers keep their crops in the cool room at a temperature of 4 C.

According to Geraldine Quelle, project manager at Phaesun, "The SelfChill cooling units consist of DC-powered vapour compression heat pumps that generate the cold," the heat pumps have a COP of 2 and are powered by a 2.8 kW solar array. The cold is then transferred using a water-air heat exchanger and stored in a water bath (thermal storage).

The system participated in the Global Leap Initiative's Off-Grid Cold Chain Challenge, where the technical performance of 12 cold rooms erected in tropical and subtropical regions was field-tested over the course of six months. It was apparently the competition's best performer and was given the title of "Top Winner of the Global Leap Award."

According to Phaesun engineer Florian Martini, "The cold room in Thika has been in continuous use for 18 months and is providing enormous benefits to the local farmers." "In the past, they frequently experienced delays in the delivery of the herbs after harvest, which resulted in significant post-harvest losses. For up to four days before collection, they now store the produce in the cold room."

The Global Leap Initiative, supported by the World Bank and the IKEA Foundation among others, uses its Awards programmes to promote market change towards the finest, most effective off-grid energy service technologies.
Source : www.afnz.com