M a r k e t N e w s
Kwale Begins a Project to Install Solar Street Lights
Posted on : Tuesday, 11th April 2023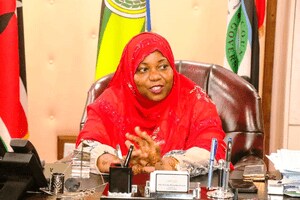 The "Let there be light" program, run by the Kwale County Government, has started an ambitious multi-million shilling mass installation of solar lighting in metropolitan areas around the county.

By using solar-powered lamps, socioeconomic activity will be improved, security will be increased, and crime will decrease.

Solar street lights offer a significant competitive advantage because they are fully independent from the grid and don't require any electricity bills because their batteries are powered by solar panels.

The effort, according to area governor Fatuma Achani, aims to make the coastal county a "attractive destination for investment and tourism" and contribute to the elimination of darkness after sunset.

The governor claims that because solar public lighting is cheaper and easier to install than grid-connected lighting, "our resolve to empower the communities with green energy" is strengthened.

The lighting plan, according to Achani, is a part of an effort to increase solar energy and illuminate rural areas with little connectivity to the national grid with a large number of solar street lamps.

She claims that solar power is a widely used source of energy because, in contrast to grid power, solar lights are appealing because there are no ongoing expenditures beyond the initial installation fee, which lowers the price of public lighting.

She added that the self-operating lights will turn on automatically when darkness falls and turn off automatically after daybreak, and that this should relieve the county government's load on its electricity expenditures.

According to her, by enhancing security and elevating the standard of living for the populace, the initiative is a key component of her long-term strategy to make the county the go-to location for businesses.

In addition to enhancing people's safety and security at night, Governor Achani claims that the project to install street lights will also increase access, security, and the 24-hour economy.

She added that the solar street lighting project would illuminate key metropolitan areas in each of the six sub counties and prevent accidents and robberies, especially at night.

Achani added that the solar project would enable fishermen along the coast to go out to sea at night in safety to provide for their families.

According to her, solar lamp posts and streetlights are also being installed in key areas on roads leading to the sub-county administrative centres that are not connected to the national grid.

The county executive claimed that the street lighting programme is a component of the administration's economic sustainability plan, which aims to expand employment and diversify the local economy.

According to Achani, the devolved unit would not sacrifice the project's functioning or quality. "The streetlighting project is also a deliberate strategy aimed at stemming rural-urban migration which often puts a strain on existing urban infrastructure," he added.

Governor Achani urged locals to take responsibility for the lamps and prevent theft and vandalism.
Source : www.afnz.com