M a r k e t N e w s
Rural Women Farmers Benefit from Solar-Powered Irrigation Project
Posted on : Wednesday, 29th March 2023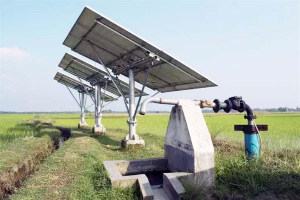 At least 103 women from 3 women-led smallholder farming communities from rural Uganda have benefitted from an innovative solar-powered irrigation system to enable them enhance their yields and climate resilience.
The beneficiaries are Kaihura Women Farmers Association (KAWFA) in Butiiti Sub-county, Kyenjojo District, and Nebbi Women Horticultural Farmers Association (NWOHOFA) in Ndhew Sub-county, Nebbi District and Women Smallholder Farmers Union (WOSFU) in Nadunget Sub-county in Moroto District.
The irrigation infrastructure has been donated by a Uganda-based charity-Rural Women Empowerment Network (RUWONET), with support from the Honnold Foundation, under the project Enhancing Production and Climate Resilience for Women Smallholder Farmers through Access to Solar Energy in Uganda.
The total project cost is $97,223 (about Shs350m) provided by the Honnold Foundation. Half of this funding (USD48,612, Shs175m) was disbursed to facilitate the 1st phase of the project.
Benefits Of the 103 wonen, 12 have been trained as solar energy technicians to endure the systems upkeep, while all the beneficiaries was trained in using solar energy for food security and post-harvest handling.
The project has also installed three solar kits at three representative households of the beneficiary communities to power lighting and refrigerators for dairy and horticultural cooling.
"These communities all together are farming on 27 acres of land, which is commercially viable for coffee, tomatoes and pineapple growing," says Mr Abas Ruhweza, the Director of Programs at RUWONET.
He says the goal of the project is to capacitate the women farmers to irrigate the entire land year round, which will increase their yields by at least 50 percent, thus their incomes and food security, while also making them more resilient to climate change.
According to Mr Ruhweza, majority of the women practice horticulture, whose yields are perishable and can only be marketed in fresh form due to absence of value addition technology.
Ms Priscilla Murungi, Executive Director, Rural Women Empowerment Network, said increasing women's access to clean energy catalyses their empowerment by generating socio-economic opportunities, while having a positive climate impact since women form the majority of natural resource users in Uganda.
Source : www.abafnz.com