M a r k e t N e w s
Africa's Richest Man Aliko Dangote Partners Blackstone, Carlyle In $5 billion Energy Deal
Posted on : Friday, 8th August 2014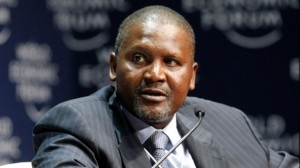 Two of America's largest private equity firms are teaming up with West Africa's largest industrial conglomerate, Dangote Industries, to invest in Africa.
According to a report by the Wall Street Journal, Black Rhino Group, a portfolio company of Blackstone Energy Partners and affiliated funds managed by Blackstone Group, is partnering with Dangote Industries, owned by Africa's richest man, Aliko Dangote, to invest up to $5 billion over the next 5 years in energy infrastructure projects across Africa, with a special bias on power, transmission and pipeline projects. In a press release published on its corporate website, Blackstone Group disclosed that it will commit $2.5 billion in the next five years, with the other half coming from Dangote Industries Ltd.
Steve Schwarzman, the billionaire co-founder of Blackstone described Aliko Dangote as a highly successful entrepreneur and innovative leader who has contributed enormously to economic development across the African continent.
"We can think of no better partner as we invest the firm's capital in African energy infrastructure development. We have confidence that the critical infrastructure projects that the Dangote team and Black Rhino will jointly pursue will play a meaningful role in the development of economies across Africa," Schwarzman said.
On the other hand, Carlyle Group announced on Wednesday that it is entering into a strategic investment partnership with Dangote Industries through its vehicles Carlyle International Energy Partners LP and Carlyle Sub-Saharan Africa Fund LP. Though the financial details of the partnership were not disclosed, the partnership will invest across the oil & gas value chain as well as in financial services, consumer and agribusiness sectors – building blocks of the African economy.
The investment deals come on the heels of the just concluded U.S.-Africa Business Forum which took place in Washington on Tuesday. President Obama, in an effort to strengthen America's financial foothold in Africa, announced $33 billion in U.S. private and public investment in Africa, with an estimated $14 billion expected to come from U.S. private sector groups.
Source : www.forbes.com