M a r k e t N e w s
East Africa automobile imports from new dealers are doubled
Posted on : Monday, 27th February 2023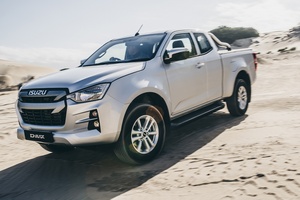 Kenyan new car dealers increased their shipments to the regional market last year, demonstrating their ability to serve neighbouring nations.
The businesses Isuzu East Africa and Scania East Africa lead sold 387 units in total to the outside markets in the fiscal year that ended in December, according to data from the Kenya Motor Vehicle Industry Association (KMI). This was up from 193 units the previous year. During the study period, the majority of exports went to Tanzania (which purchased 241 units) and Uganda (146 units).
The majority of the exports were commercial vehicles (pickups, lorries, and prime movers), with the majority being produced locally. With 40 units sold last year, a Scania prime mover from the P360 series is the most popular export model.
The official dealers have stated that their factories are working at less than full capacity, but that they are able to ramp up output to satisfy regional demand.
"Our capacity utilisation today is approximately 40 percent where we are generating roughly 5,000 vehicles. We have the capacity to expand up regionally in terms of production capabilities," Isuzu CEO Rita Kavashe previously said.
East Africa has a strong demand for automobiles, but a preference for second-hand imports, as well as tighter age limitations, has reduced the possibility for professional dealers.
"Over 200,000 automobiles are sold each year in East Africa. 40,000 of these are commercial vehicles and pick-ups. Therefore, while we produce around 11,000 vehicles in Kenya, there is a significant possibility in the region. We have three factories in Kenya that are working at 40% capacity," Ms Kavashe explained.
"As a result, these three facilities have the potential to provide commercial trucks to the whole East African area. Second-hand imports account for around 85 percent of motor vehicle sales in Uganda and Tanzania, which have less severe age limits."
The majority of these additional incentives—which include tax exemptions from levies like the import tariff, which is assessed at 25%—are being offered by the government to assist the expansion of the domestic car assembly sector.
Also, the government has a policy of giving locally built automobiles priority when purchased by ministries and other State organisations.
The three biggest assembly facilities in Kenya are Isuzu, Kenya Vehicle Manufacturers, and Associated Vehicle Assemblers.
Source : neqfric.co