M a r k e t N e w s
Tanzania: EU Ambassadors Give Mwauwasa Projects a Thumbs Up
Posted on : Tuesday, 31st January 2023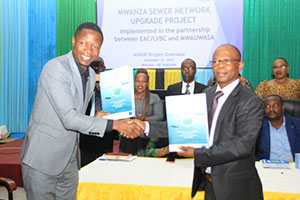 Last week, an ambassador representing European (EU) nations visited Mwanza and many projects, including the ongoing Butimba Water Treatment Plant (WTP).
The Ambassadors at the location acknowledged their happiness with the project's progress, which is over 60% complete.
The cooperation of the EU and its member states helped to finance the works to create the pumping and filtration station for the provision of water in Mwanza, according to EU Ambassador Manfredo Fanti, who noted that it was quite interesting for the group to be there and inspect the installation.
Therefore, he stated, "It is quite exciting for us to come here to view the progress of the works and to also see our cooperation with Tanzania and authorities, notably Mwanza City, is producing positive results." He emphasised the following:
The delegation was impressed by the quality of the site because the construction site's working team was efficient and the work was progressing swiftly.
The site, he continued, should be finished by July of this year, as has been decided, and should then be a beneficial resource for the people of Mwanza.
A-69bn/-worth The Mwanza Urban Water Supply and Sanitation Authority is in charge of overseeing Butimba WTP (Mwauwasa).
450,000 people in the wards of Nyegezi, Mkolani, Buhongwa, Lwamina, Fumagila, Sawha, Igoma, Kishiri, and Nyamanoro are expected to benefit from its current first phase.
The delegation also visited the Mwauwasa-run Simplified Sewerage System project in the Pasiansi neighbourhood, where the ambassadors again praised the work after seeing how well the people of Hills are taken care of by contemporary waste-outlets and environmentally appropriate infrastructures. Eng. Leonard Msenyele, director of Mwauwasa, gave the team a presentation on the Authority's different water delivery operations related to Lake Victoria.
According to him, Mwauwasa has water intakes in four places: Capri Point Intake serves Mwanza City, Nyahiti Intake serves Misungwi Town, Busulwa Intake serves Magu Town, and Nebuye Intake serves Nansio Town in the Ukerewe District.
Additionally, the group was informed of the water supply situation and that an average of 90 million litres of water are produced each day (MLD).
There are 104,645 consumers served by the 1,300 km water network, which has three major and 28 minor booster pumping stations with a combined 45 MLD water storage capacity.
A total of 5,325 clients have so far been connected to service, and there are 13 wastewater stabilisation ponds, three main pumping stations for waste water management, and a 149.27km sewer network.
The RC answered, "Now is the moment to fully and effectively utilise Lake Victoria for fishing activities.
Source : https://allafrica.com/