M a r k e t N e w s
Kenya Eyes More Regional Trade after Pact with Two Blocs Kicks Off In March
Posted on : Thursday, 26th January 2023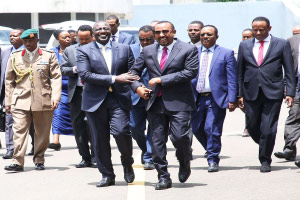 Kenya could soon start exporting its goods outside the East African Community (EAC) market with the implementation of a tripartite agreement that is expected to be implemented in March this year.
The free trade pact that brings together 3 regional business blocs the Common Market for Eastern and Southern Africa (Comesa), EAC and South African Development Community, was mooted seven years ago.
However, it stalled after it did not meet the required number of member states to ratify it before its implementation.
Christopher Onyango, director of Trade and Customs at Comesa secretariat, said achieving the tripartite dream is a complex process that requires a lot of commitment including financial but pointed out that at least 3 of the members who are yet to ratify have indicated their willingness.
"Negotiation for integration is a complex process that requires resources and capacity," said Mr Onyango.
"We expect to reach the minimum threshold of 14 by March and the signal we are getting is that the countries that are yet to endorse the trade deal are moving towards achieving its ratification."
Currently, only 11 member states including Kenya have ratified the deal with Tanzania, South Africa, Mauritius and the Democratic Republic of Congo yet to endorse this trade deal.
Chair of the tripartite committee Mohamed Abdallah said it is a lengthy process that requires each country to undertake a long internal process 1st before ratifying it.
The agreement is meant to promote intraregional trade and enhance regional and continental integration among the different business blocs as it seeks to eliminate both tariff and non-tariff barriers.
Several rounds of negotiations spanning 5 years have been taking place with the Tripartite Council of Ministers having earlier set April 2019 as the deadline for member states to ratify the agreement.
Launched in Sharm-El-Sheikh, Egypt, in June 2015, the Tripartite Free Trade Area champions integration that is grounded on the developmental approach to regional integration, based on the three pillars: market integration, industrial development and infrastructure development.
For example, many member states in the proposed free trade area have narrow production bases, exporting only a few primary commodities.
The Tripartite Model is intended to ensure that the right commodities are produced and competitively availed to the market.
Source : www.abafnz.com