M a r k e t N e w s
Ampersand will deploy 600,000 electric motorcycles in East Africa by 2030
Posted on : Thursday, 26th January 2023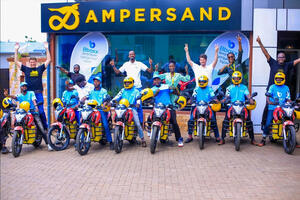 Mobility startup Ampersand wishes to expedite the development of electric mobility in East Africa. To that purpose, the business has announced the deployment of 600,000 electric motorcycles over the next six months. The two-wheelers will first be utilised in Kigali, Rwanda, where the firm is situated, as well as Nairobi, Kenya, and Kampala, Uganda.
Ampersand already boasts 35,000 battery replacements each month and a fleet of around 620 electric motorcycles. "Going electric will quadruple a driver's salary and permit a zero-carbon future on our roads," claims the firm, which was founded in 2019.
Ampersand will collaborate with digital platform M-Kopa, which specialises in e-asset financing, the energy solutions provider, and French giant TotalEnergies, with whom it recently installed three charging stations at its Hurlingham, Dagoretti, and Mountain View stations in Nairobi, to complete the project by 2023.
Ampersand is also financially supported by the United Nations Habitat Organization and the German International Development Cooperation Agency (GIZ). These development partners fund ecological mobility programmes in Africa, such as Ampersand's initiative in Rwanda to teach young females to drive electric automobiles.
The start-up run by Josh Whale has reached a deal with the British solar home systems supplier Bboxx to boost the selling of its electric motorbikes in the second half of 2022. As a consequence, the bikes will be paid for using Bboxx's mobile payment options, such as the 'Bboxx's Pulse' app. This is a completely integrated pay-as-you-drive operating system that streamlines Ampersand's clients' business processes.
Source : neafric.co