M a r k e t N e w s
Kenya and the Netherlands improving access to healthcare through bolstering health systems
Posted on : Tuesday, 27th December 2022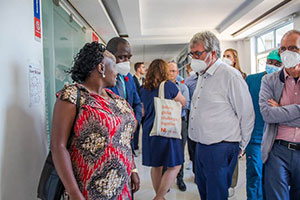 14 Dutch companies are travelling to Kenya to increase private sector Dutch involvement in Kenyan healthcare. to interview decision-makers, businesses, and academic institutions in order to thoroughly research Kenya's healthcare system. Additionally, by going to different hospitals and other medical facilities in Nairobi and Kisumu. The tour will assist these companies in locating market prospects and, with any luck, result in numerous productive Kenyan-Dutch collaborations in the healthcare industry.
The Covid-19 situation put forth that today's health challenges are getting more global, multifaceted, and complex. Global health issues are mostly caused by a number of variables, including climate change, air pollution, urbanisation, mobility, population expansion, and humanitarian crises. The epidemic showed the world how collaboration can result in creative solutions.
A trade delegation from the Netherlands in the health sector visited Kenya last month to look for ways for the two nations to work together to address this problem, particularly between their respective private sector businesses. There are three key components to this: having access to high-quality healthcare, having access to qualified healthcare professionals, and having policymakers commit to funding UHC. To accomplish the SDGs for health, this mission aims to strengthen partnerships between the public and private sectors.
The mission aimed to expand on the Netherlands' long-standing support for Kenya's aspirations in the area of health. For instance, the SafeCare programme, which allows for the comparison of healthcare services to a set of globally recognised criteria, was created through private collaboration with PharmAccess. Investors, insurers, patients, and contributors may all make data-driven decisions thanks to SafeCare benchmarking.
The Netherlands is a significant participant in international fora and one of the top donors to the GFF, WHO, UNFPA, and UNFPA. It is reasonable to conclude that the Netherlands is already a reliable partner for Kenya in the healthcare sector on a bilateral and multilateral level. The curret goal is to further develop and strengthen this collaboration.
Universal access to care, social support through health insurance, and high-quality healthcare services are the cornerstones of the Dutch health system's success story. Ambitious plans have been presented by the Kenyan government to advance its UHC programme. Kenya is dealing with its health issues thanks to the favourable climate for innovations, research and digitalization. However, the wide range of health issues necessitates a comprehensive strategy that focuses on fortifying these systems with assistance from numerous partners.
Source : www.instem.co.ke