M a r k e t N e w s
Boost in Tanzania's ports operations as trade elevates
Posted on : Tuesday, 27th December 2022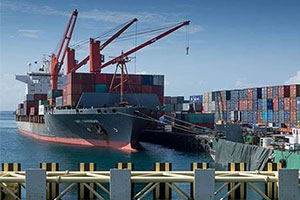 In the recent fiscal year, cargo handled by Tanzanian ports climbed by 14.9% to 19.8 million tonnes as businesses recovered from the Covid-19 outbreak as a result of better port infrastructure.
The country's cargo handling increased from 17.19 million tonnes in a comparable period the previous year to 19.8 million tonnes in the year to June 2022, according to the Bank of Tanzania (BoT).
According to the central bank's consolidated zonal economic performance report for the fiscal year ending June 2022, the Dar es Salaam port's expansion, which is responsible for 90.4% of all cargo handling, is still paying off.
The port of Tanga, which saw an increase of 16.9% to 942,000 tonnes from 806,100 tonnes the year before, handled the second-highest volume of goods.
The central bank claimed in the study that "increased cargo volume in the ports of Dar es Salaam and Tanga is a result of the global supply chain recovery and upgrades to the port's infrastructure."
The biggest improvement was at Mtwara Port, where cargo volume increased from 177,400 tonnes in 2020–2021 to 592,400 tonnes at year's end in June 2022.
The surge in coal and cashew nut shipments, according to the central bank, was the cause of this.
The bank stated, in part, that the rise in the volume of cargo at Mtwara Port was due to an increase in the exportation of coal to the Netherlands, Senegal, Ghana, Egypt, and India as well as cashew nuts to Vietnam, along with the importing of petroleum products.
The port of Dar es Salaam is used by the neighbouring nations of Rwanda, Uganda, Burundi, the Democratic Republic of the Congo (DRC), Zambia, and Malawi to export and import products. East Africa is located on the Indian Ocean.
In a telephone interview, Mr. Plasduce Mbossa, director general of the Tanzania Ports Authority (TPA), stated that the government's initiatives to promote business and investment are among the main elements that continue to support the operation of the ports.
He claimed it includes the recovery of economic activities including mining, manufacturing, and agriculture in Tanzania as well as around the region, particularly from Tanzania's landlocked neighbours.
Source : www.theindustry.com