M a r k e t N e w s
Ethio-Russia Joint Ministerial Commission Meeting in Addis Discusses Trade and Scientific Cooperation
Posted on : Tuesday, 27th December 2022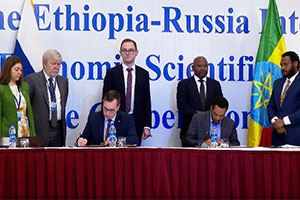 The Ethiopian Ministry of Foreign Affairs in Addis Abeba opened the 8th Joint Ministerial Commission (JMC) meeting between Ethiopia and Russia.
The three-day joint ministerial commission conference covered topics pertaining to economic, scientific, technical, social, and commercial issues between the two countries, according to MoFA.
High-ranking representatives from the two nations attended the meeting's opening, including Evgeniy Petrov, the head of the Russian Federation's Federal Agency for Subsoil Use and Belete Mola (PhD), Ethiopia's Minister of Innovation and Technology.
Dr. Belete stated during the opening ceremony that relations between Ethiopia and Russia have existed for a very long time and have stood the test of time. "People of our two great countries have had spiritual and cultural ties since antiquity, which served as the cornerstone for outstanding relationship that blossomed over years," he said, according to MoFA.
Mr. Petrov, for his part, expressed his sincere gratitude for the gracious reception extended to him and the delegation, saying that the "relations between the two countries have always been built on mutual interest, solidarity and friendship," according to MoFA.
Russia has recently stated that it wanted to expand its partnership with Ethiopia in the areas of digitalization, information network security, and digital skills. Maxim Parshin, the Russian Federation's deputy minister for digital development, communications, and mass media, further promised that Russia and Ethiopia will work together to advance electronic government services, digital literacy, information network security, and related fields.
Ethiopia and Russia are already cooperating in a number of areas, including security, science, technology and innovation, to name a few.
Source : www.afrinews.com