M a r k e t N e w s
Uganda embarks on distribution of Long Lasting Insecticidal Nets to combat malaria
Posted on : Friday, 8th August 2014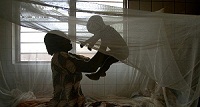 Why the Mass Distribution of Nets in Uganda is a success story so far?
The Ministry of Health in Uganda and its financing partners, have succeeded in distributing Long Lasting Insecticidal Nets to 98% of its districts. This is one of the most costly, most ambitious and most cost effective moves in Health Care and as regards Malaria prevention. Its goal is to achieve what is termed as Universal Coverage to curb the mortality and morbidity of malaria in the country. Universal Coverage here means a net for every 2 people in a household which in turn means a minimum of a net for every household.
The nets being distributed are called Long Lasting Insecticidal Nets (LLINs). These nets are treated with an insecticide during manufacture making the net have a life span of 3-4 years if handle with given recommendation.
How is the Ministry of Health Uganda handling this? Aside all other preparations and in a nut shell, It send is a team of nationally trained trainers to the districts, these train district trainers. The national trainer (one per sub country) works alongside 2 district trainers in his designated Sub County to sensitize, mobilise and distribute the nets to the households as per the strict guidelines of the ministry.
Why is the campaign a success story so far? Four reasons among many;
1. Most people have been anxious and excited to receive the nets especially in the rural areas where over 80% of our population is located.
2. On the day after distribution day (mop up day), most households are seen hanging the mosquito nets in a shade for aeration before use (Of course sometimes you could as well find nets hang in the sun, but it's because that is where the shade was earlier before the owner went to the garden or for work). This shows a good level of knowledge of use for the net.
3. The old nets that were used before this mass distribution have been outed by people after receiving the new nets and they have found new ways to use them. Commonly for nursery beds aside other uses.
4. Misuse of these nets is considered crime. Local authorities at villages are to report any net misuse to the local police force for action. These nets given out are distinguishable from all other nets and are sealed with the Ugandan Flag.
5. Waste management has been improved. All packages that come with the nets are to be returned for central and appropriate disposal. This has been a challenge especially in rural areas where people have use for such waste, but with more effort from the Ministry of Health, this waste has been returned to the net Sub County Stores waiting to be picked for disposal by the Ministry.
This not to say that everything is perfect, there have been some challenges in the urban areas due to large populations and wise business guys, but it's nothing security (police and UPDF) has not managed well. A couple of arrests have been made for net theft, misuse and selling among other issues. As the campaign comes to the peak and end in the next few months to the remaining districts, we hope a success story will be told and written. Also, other countries will have a great deal to learn from Uganda since we are taking this first, very great leap. The campaign is at its twilight with only two districts left (Kampala and Wakiso).
Source : africahealthitnews.com