M a r k e t N e w s
Coca-Cola To Invest $5 Billion In Africa To Unlock Growth Potential
Posted on : Wednesday, 6th August 2014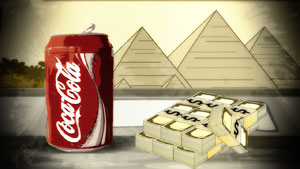 The Coca-Cola Company (KO), along with its bottling partners, will invest $5 billion in Africa over the next six years. This will bring Coca-Cola's total investment in the continent to $17 billion –from 2010 to 2020-. The latest announcement was made in the US-Africa Leaders' Summit.

The investment will be used to fund new manufacturing lines, cooling and distribution equipment, and will also be used to improve production capacity. Furthermore, key sustainability initiatives, such as sustainable sourcing and operational efficiency improvements, will also be undertaken by the additional funds.

Coca-Cola also promised to enhance programs focused on safe water access, women's economic empowerment, and community well-being.

The investment comes on the back of slowing growth of carbonated soft drink (CSD) sales in the developed world. Coca-Cola, with 75% of its portfolio representing CSD sales, has suffered from stagnating growth in its revenue and has seen a flat share price. The company has, however, achieved great growth in emerging markets such as China. Volumes in China grew 10% last quarter compared to flat volume growth in North America.

North America contributes 45% to Coca-Cola's revenues, making the stagnating growth particularly worrisome for investors. With activist investors urging the company to boost revenues and profits, Coca-Cola is looking for new opportunities to achieve organic and inorganic growth. Eurasia and Africa contribute 6% to total revenues for the company, but also include regions such as Middle East, Russia and Central Asia along with Africa. PepsiCo, Inc. (PEP) has yet to make investments of similar size in Africa, making the region even more valuable for Coca-Cola.

Coca-Cola CEO Muhtar Kent said tapping the potential in the African market can accelerate growth for the company by making supply chains more effective and will enable sub-Saharan Africa to supply more raw material to growing markets.

Coca-Cola also signed a letter of intent to launch Source Africa, which is an initiative to secure more consistent and sustainable local raw material for Coca-Cola's products in partnership with Grow Africa and New Alliance for Food Security. The initiative will focus on sustainable mango production in Kenya, Nigeria, and Malawi and can also be extended to other African countries in the future.

Coca-Cola closed down 0.56% on the NYSE today. The stock is down 4.6% year-to-date.
Source : bidnessetc.com