M a r k e t N e w s
Coca Cola Introduced Five Ways To Clean Up Its Plastic Footprint Across Africa
Posted on : Friday , 8th November 2019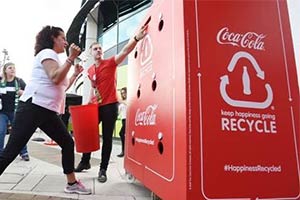 In 2018, the Coca-Cola Company announced its World Without Waste vision, which committed to an ambitious goal: to collect and recycle the equivalent of a bottle or can for every one they sell by 2030, reaching a 100% collection and recycling rate of all their packaging.
The vision also includes ensuring all of their packaging is 100% recyclable by 2025 and that the PET bottles are made with an average of 50% recycled content.
Here are five ways Coca Cola is putting the World Without Waste vision into action across Africa; cleaning up the plastic footprint while at the same time creating income opportunities and boosting the circular economy.
The five ways includes: Creating a sustainable collection & recycling model (PETCO); Creating a true circular economy; Partnering across all sectors to support healthy, debris-free environments and oceans; Making collection more accessible and helping people understand what, how and where to collect for recycling; Sharing expertise to help solve the problem.
PETCO in South Africa has driven the in-country recycling of PET plastic bottles up from 14% in 2005 to over 65% of beverage PET bottles in 2018. This puts South Africa ahead of developed markets, such as the EU (2016: 60%) and US (2016: 28.4%) when it comes to PET collection and recycling rates.
The PETCO model has proved so successful that Coca Cola is replicating it across Africa and other parts of the world.
The strength of the PETCO model is that the PET collected is recycled in the same country and not exported.
Partnerships such as PETCO help create a closed-loop system that benefits the environment, serves communities and begins charting a path of shared opportunity for future generations.
Across Africa, Coca Cola has partnered with organizations that cover the entire life cycle of the package – from suppliers, innovators, collectors, recyclers, NGOs and governments. They are partner with organizations such as the Ocean Conservancy, World Wildlife Fund and their competitors in their ongoing sustainability efforts.
The strength of the World Without Waste strategy is that it centres on partnership – bringing people together to help turn waste into worth.
The World Without Waste vision charts a way forward to a more sustainable world, where public, private and civic organizations work together to solve the packaging problem and turn waste into worth for future generations of Africans.
Source : newzmart