M a r k e t N e w s
Tanzania receives a major dam in Lumakali announced by the Government of Tanzania
Posted on : Tuesday , 9th July 2019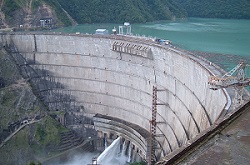 The government of Tanzania announces the construction of a major dam in Lumakali, Njombe District. Deputy Minister of Energy Mr Subira Mgalu declared the report and states that the authorities are currently involved in reviewing the feasibility study conducted in 1998. The construction of this 388.2m high dam and power centre will produce 222MW of electricity which will be distributed from Lumakali to Mbeya. This project is probably going to commence on January 2021 and will be finished by June 2023, said the minister.
The authorities of Makete shows concern over the late commencement of this project stating that the people of Makete is waiting for 11 years for this project on the contrary that government have pledged to start the project in 2017. The continuous development in the energy sector is crucial for Tanzania to grow economically, attract FDI and fulfil the demand for a growing population in the country. Currently, Tanzania has an installed generated energy capacity of 1513 MW which comes around 0.033 kW per capita, as the population, and direct investment is increasing so the demand for higher electricity.
Moreover, the government is also aiming to encourage investment to fulfil the development projects such as increasing available power generation, improve electricity distribution system and developing new sources of energy for a cleaner and brighter future. Due to the Public-Private Partnership (PPP) Act of 2010 and Private Partnership regulations passed in 2011, the government is enacted to support the private sector investment under PPPs.
With the continuous success of long term projects the government of Tanzania is determined to completely focus on their long term vision such as increasing connectivity from 30% to 50% by 2025, reduce system losses, increasing power generation capacity for the country to be around 5,000 MW by 2020 and to diversify the sources of power generation for the country.
Source : bizmart