M a r k e t N e w s
Swala Oil & Gas (Tanzania) plc received an initial investment of US$30 million from Energy Tanzania Limited (ETL)
Posted on : Wednesday , 9th January 2019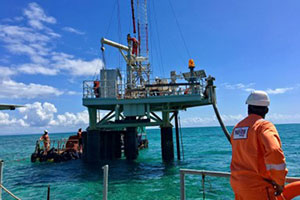 Energy Tanzania Limited (ETL) is owned by Dr. Reginald Mengi, the well-known Tanzanian entrepreneur and philanthropist. It has been announced by Swala Oil & Gas (Tanzania) plc that they have entered into an ultimate agreement for an initial investment of US$30 from Energy Tanzania Limited. The funds will be utilised to develop the Company's current projects.

The investment, which is observed to close in two tranches, comprises of a US$30 million Convertible Note that must be converted into ordinary shares of the Company on the earliest of 90 days from the date of subscription or a crosslisting of Swala Ordinary Shares on another stock exchange and in any event no later than one year from the date of subscription. The conversion rate will be on the basis of an agreed 30/75, involving a pre-money valuation of Swala of US$45 million and a 125% premium to its current market capitalization. Upon conversion, ETL will own approximately 46% of the Company.

"We are pleased to have obtained an outstanding strategic investment by Energy Tanzania Limited, which has been a supportive shareholder since the Company's listing on the Dar es Salaam Stock Exchange four years ago. Dr. Mengi has identified the Tanzania energy sector as a strategically important sector with significant opportunity for Tanzanians, and Swala is affluented that he has chosen our Company as his investment vehicle of choice".
With the support of ETL we aim to continue developing Swala to mark the energy demands of Tanzania as it seeks to grow into a middle-income economy, an aim in which the Company, through its direct and indirect investments, can play an important role," said Swala CEO Dr. David Mestres Ridge.

The equity of company is now basically owned by accurately 1,500 Tanzanian investors (accounting for 45% of the Company's issued capital), followed by Australian investors (27% of the Company's issued capital) and by investors in Spain (9%), Kenya and the United Kingdom (each with 7%).

In addition, Swala further continues that it is in the process of closing the susidiary sources of funding with institutional investors and individuals, to be used together with the announced funding to further grow the Company's current projects.
This involves a further senior debt investment that is observed to rank equally alongside the US$25 million of senior debt already increased as well as additional subscriptions to the Convertible Notes.
Source : newzmart